A ballistic missile was launched for the first time from the board of the newest South Korean submarine Dosan An Chan-ho. Earlier, similar tests were conducted by Seoul's northern neighbor, using old Soviet technologies.
South Korea has joined the club of countries that own ballistic missile submarines( SLBMs): the launch of the K-SLBM (Hyunmoo 4-4) was carried out from the board of the lead non-nuclear submarine of the KSS-III project.
The remaining seven states with SLBMs are the United States, Russia, Great Britain, France, India, China and North Korea. Seoul has expanded the capabilities of its Armed Forces as a countermeasure against North Korean submarine-launched ballistic missiles shown at a military parade in honor of the eighth Congress of the Workers ' Party.
Although North Korea can (at least in theory) use such weapons, it does not have modern submarines: Pyongyang's submarines are based on Soviet developments.
At the same time, the South Korean KSS-III is the newest submarine with a high combat potential. The lead boat was put into operation in August of this year. The length of the KSS-III is 83.5 meters, the width is 9.6 meters.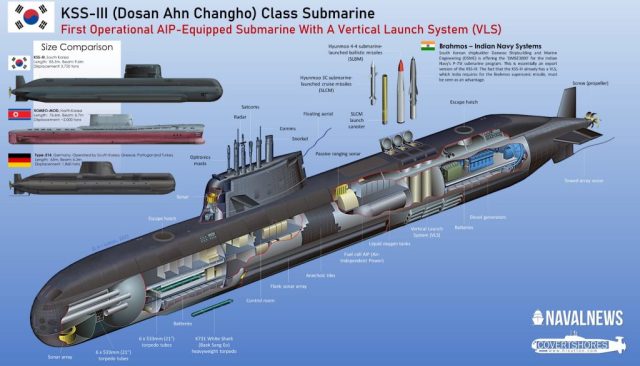 KSS-III
Image source: Naval News
The maximum speed of the underwater course of the ship is 20 knots (37 kilometers per hour). The KSS-III armament of the first series includes six vertical launchers that can be used to launch both ballistic and cruise missiles. There are also eight bow 533-mm torpedo tubes.
Tests of K-SLBM missiles have been carried out before. The tests include three stages: launches from the ground, water and a submarine. The naval Forces of the Republic of Korea successfully conducted land and underwater tests last year and this July, respectively. In the second case, according to available data, a loaded underwater stand was used. Thus, it is possible to talk about the real capabilities of the rocket only after recent tests.
Asian countries traditionally rely on non-nuclear submarines. Last year, the Japanese launched a Taigei-type lead submarine. Thanks to the use of innovative lithium-ion batteries, which were previously installed on part of the Soryu submarines, the new ships will give the Japanese fleet extremely wide opportunities. In total, seven such submarines will be built for the Maritime Self-Defense Forces.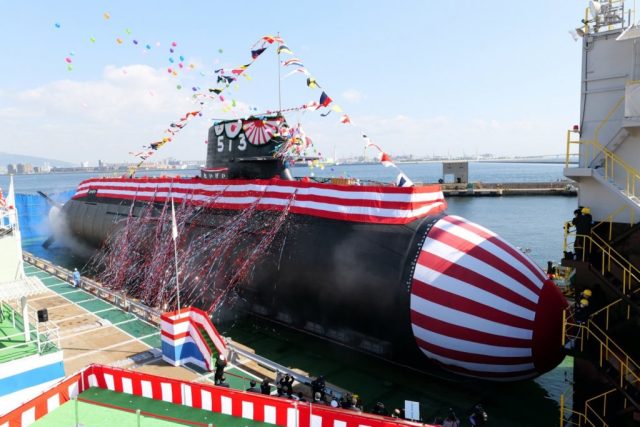 Taigei
Image source: navalnews
We also recall that this year a photo of a "futuristic" Chinese submarine of a new type was posted on the Network. It is assumed that we were talking about the newest and potentially the most advanced representative of the Yuan-type submarine family.