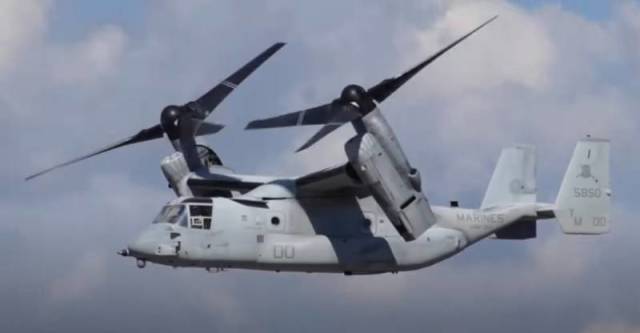 Image source: topwar.ru
The other day there was another crash of a V-22 Osprey tiltrotor during a training mission in northern Australia. Three Marines were killed, five were seriously injured. A year ago there was a similar incident.
As indicated in the publication of the EurAsian Times, Osprey is one of the main means of landing American troops in the Asia-Pacific region, that is, on the largest naval theater, where the United States is going to engage in a fight with China. Experts from the United States believed that due to its flight range and advanced characteristics, the V-22 would give advantages when transferring people and equipment to the Asia-Pacific region.
Calculations proceeded from the fact that in conditions of strong coastal defense of the enemy, it is almost impossible to bring ships close enough to the shore to land soldiers using conventional helicopters or landing boats. Therefore, the bet is on a tiltrotor capable of flying hundreds of kilometers over the sea while the US Navy ships will work from afar along the coast.
With the help of these machines, we can deliver Marines and attack anywhere in the Pacific Ocean
- explained in 2022 in the KMP.
However, as the author notes, "Osprey crashes paint a different picture." According to him, 13 incidents were recorded, in which 51 people died:
Osprey has been controversial for a long time, first because of its exorbitant price and long development period, and more recently because of security issues. They are the result of a revolutionary machine design in which the wing tilts up for vertical takeoff and landing and goes down again for horizontal flight.
As noted in the publication, budget reports released by the US military services in March indicate that none of them intends to purchase additional Ospreys, although the ILC, Navy and Air Force intend to continue using previously purchased vehicles.
The current refusal to purchase convertiplanes may, against the background of their damaged reputation, be the end of purchases of new Ospreys for the US armed forces
- the conclusion is made in the publication.