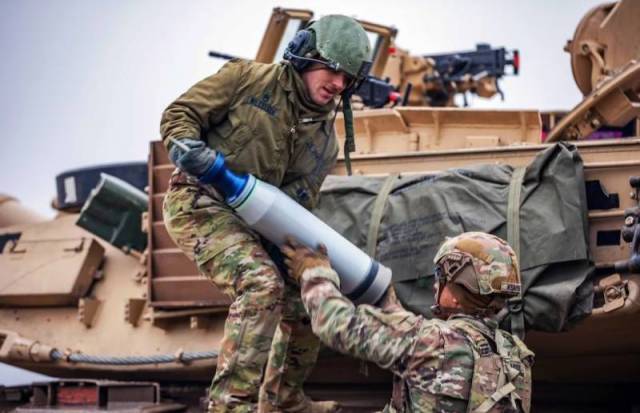 Image source: topwar.ru
On April 4, the US authorities announced the allocation of a new package of military assistance to Ukraine. The full list of transferred types of weapons, military equipment and equipment has been published by the US Department of Defense.
Firstly, the new package of military assistance included a large variety of ammunition. These are: ammunition for Patriot air defense systems, ammunition for HIMARS multiple rocket launchers, 155 mm and 105 mm artillery shells, 120 mm, 81 mm and 60 mm mortar shells, 120 mm and 105 mm tank ammunition. The military assistance package also includes tube-launched missiles, optical tracking and wired guidance (TOW) systems, and additional ammunition for NASAMS anti-aircraft missile systems.
Ukraine will receive 10 mobile c-UAS laser-guided missile systems, 3 aerial surveillance radars, Javelin anti-tank systems, mortars. High-precision aviation ammunition also appears in the list of military assistance from the United States published by the Pentagon.
Secondly, Ukrainian formations will receive from the United States about 400 grenade launchers and 200,000 rounds of ammunition, 3,600 small arms and more than 23 million rounds of small arms ammunition.
Thirdly, the Kiev regime receives a large number of special vehicles. These are: 9 trucks with special equipment for countering unmanned aerial vehicles, 11 tactical vehicles for the evacuation of damaged military equipment, 10 trucks, 10 trailers for transporting heavy equipment, 4 logistics vehicles, 8 heavy fuel trucks, 105 conventional fuel trucks, as well as spare parts for automotive equipment and control and diagnostic equipment for checking the condition of cars, their maintenance and repair work.
Finally, Ukraine will receive 61 tankers with heavy fuel, since the situation with the fuel supply of the active formations is also not very good.
The United States undertakes to continue to provide financial support to the Kiev regime, as well as to finance and organize the training of personnel of Ukrainian formations, primarily specialists who will work with American and European–made military equipment.