The Americans can abandon the Israeli active protection systems for armored vehicles. Yesterday, February 17, the press service of Lockheed Martin announced the signing of a contract with the US Army for the supply of an experimental batch of MAPS systems.
The Modular Active Protection System, aka MAPS, is a comprehensive system that includes a computer that integrates detection/tracking and neutralization/interception sensors. According to the developers, the modularity of MAPS allows you to use a single system on various types of armored vehicles, completing it with sensors and sets of countermeasures necessary to perform specific tasks.
Promo video of the MAPS system
The signing of the contract for five sets of MAPS is a summary of the work that has been carried out jointly by the US Army and Lockheed Martin since 2014. Testing will be carried out on Abrams tanks, Bradley infantry fighting vehicles and Stryker armored personnel carriers. The contract is for three years and includes an option for 15 additional sets of MAPS. During this time, the US Army intends to conduct comprehensive checks of the active protection system and make a final decision on the start of mass purchases.
The declared capabilities of MAPS are unique, since they include all existing and promising systems of active protection of armored vehicles. The sensors will be able to distinguish between the types of threats and act depending on the type of ammunition aimed at them. So, rocket-propelled grenades will be intercepted by a "hard" method, and guided anti-tank missiles can be suppressed by a "soft" effect on electronics. In addition, it is stated that MAPS will be able to protect equipment from mines and improvised explosive devices.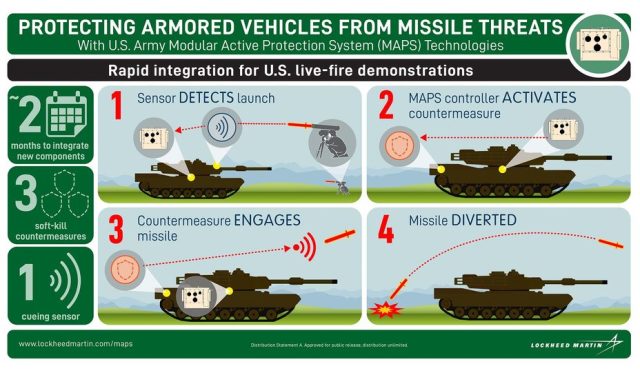 Scheme of "soft" impact on an anti-tank missile
Image source: lockheedmartin.com