The ground-based Subaru telescope was able to see in the sky the Japanese interplanetary station Hayabusa-2, which is supposed to drop a capsule with the substance of the asteroid Ryugu into the atmosphere of our planet on December 5. The images obtained by the telescope helped clarify the station's trajectory, according to the telescope's website.
Currently, Hayabusa-2 [...] is approaching Earth, carrying a return capsule with two soil samples from the surface and from the inner layers of the near-earth asteroid (162173) Ryugu, which the station has been studying for a year and a half. Further study of the soil in the laboratory will help to understand the processes that took place in the early Solar system and the role of asteroids in delivering water and organic molecules to the young Earth.
On November 26, 2020, the station performed the third of five trajectory correction maneuvers on approach to Earth. It is expected that the station will make the fourth maneuver on December 1, and the separation of the capsule from the device is planned for the evening of December 5, when Hayabusa-2 will be at a distance of about 220 thousand kilometers from our planet. After that, the station will make the fifth maneuver and switch to the trajectory of departure from the Earth. The capsule itself is due to land by parachute on the afternoon of December 6 at the Woomera range, located in the Central part of the state of South Australia.
November 20, 2020, the 8.2-meter optical ground-based Subaru telescope using its HCS (Hyper Supreme-Cam) I received five images of Hayabusa-2 when the station was located at a distance of 5.8 million kilometers from Earth. The images were taken during a break between scientific observations and helped to clarify the trajectory of the station.
This is not the first time that Subaru has been observing Japanese automatic vehicles — in 2010, it photographed the Hayabusa-1 station on approach to Earth, and in 2015, it observed the Ryugu asteroid, which was orbiting Hayabusa-2 at that time.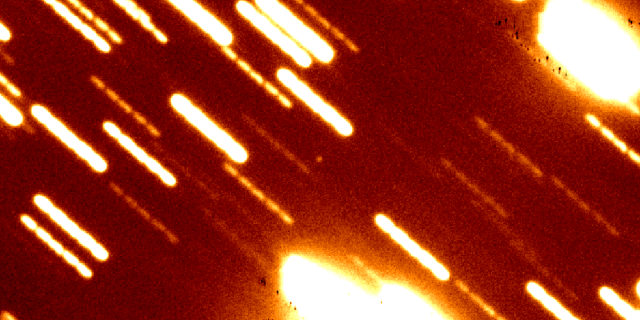 "Hayabusa-2 "(as a Central bright point) in the image of the Subaru telescope.
Image source: NAOJ
The Hayabusa-2 science program doesn't end when the capsule is dropped to Earth — it will visit two more near-earth asteroids in the next ten years . We are following this unique mission, the details of which can be found on a separate page .
Alexander Voityuk