On December 9, 2022, the German Rheinmetall Group announced that it would supply two new Skynex 35 mm ground-based anti-aircraft artillery systems to an unnamed "international customer". Delivery will be made in early 2024. The total value of the contract is 182 million euros. In addition, a memorandum was signed in the amount of another 12 million euros for the supply by Rheinmetall group of heavy military trucks RMMN HX complete with vehicles for transporting and providing Skynex complexes.
According to the German newspaper "Handelsblatt", with reference to "government circles", these Skynex complexes should be delivered to Ukraine, and the contract itself will be fully funded by the German government.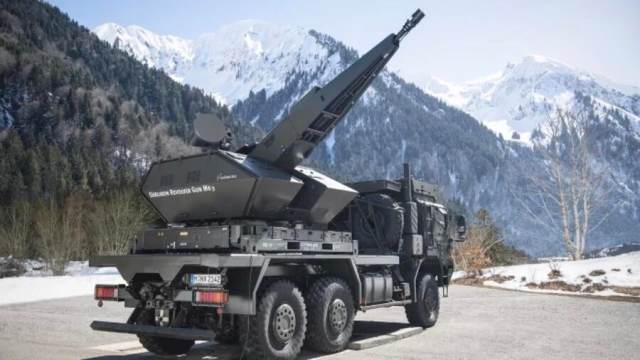 Anti-aircraft artillery module with 35 mm automatic revolver gun Oerlikon Revolver Gun Mk 3 on a car chassis as part of the Rheinmetall Skynex anti-aircraft artillery complex (c) RheinmetallUkraine will thus become the first known recipient of the Skynex anti-aircraft artillery complex, which is a further development of the Skyranger 35 (Skyshield) family of missiles based on the artillery module with the 35 mm automatic revolver gun Oerlikon Revolver Gun (Millenium, GDM-008), currently being produced in the latest version of the Oerlikon Revolver Gun Mk 3. The actual developer of the gun and complexes based on it is a division of Rheinmetall Air Defense - the former well-known Swiss company Oerlikon, absorbed by Rheinmetall in 2001.
In the last few years, Rheinmetall has started using the Oerlikon brand again to refer to its products.
The Oerlikon Revolver Gun fires programmable projectiles AHEAD, which makes it particularly effective for hitting small-sized explosive targets. It is stated that for the effective destruction of one small UAV, from one to three 35-mm programmable projectiles are enough, while the cost of one such projectile is now about 4,000 euros. The effective firing range is up to 4.5 km.
Skynex, first introduced in 2016, is a "networked" containerized complex based on artillery modules with a 35 mm automatic revolver gun Oerlikon Revolver Gun Mk 3, and is designed primarily to defeat missile and artillery ammunition, as well as cruise missiles and UAVs. The complex includes a new automated combat control system Oerlikon Skymaster with a separate command post, a new X-band detection radar Oerlikon X-TAR3D, and several (up to four) 35 mm artillery modules (with integrated electro-optical and radar fire control). All elements are made in a transportable containerized version, while artillery modules can also fire from automobile chassis. The network capabilities of Skynex allow you to connect various types of other detection and destruction equipment to it, including various types of SAMs.
In particular, at the IDEX-2017 defense exhibition in Abu Dhabi, 60-charge Cheetah launchers of SkyKnight anti-aircraft guided missiles (effective range from 2 to 8-9 km, infrared homing) were also demonstrated as part of the Skynex complex. The SkyKnight short-range air defense system is represented by the Emirati company Halcon (part of the Emirati EDGE group), however, apparently Rheinmetall is actually its main developer on a contract basis.
It should be noted that in its press release on the planned delivery of Skynex complexes to an unnamed "international customer", Rheinmetall states that "the successful use of the Gepard self-propelled anti-aircraft system in Ukraine underlines the effectiveness of 35 mm anti-aircraft systems based on a 35 mm cannon against aerial targets, especially cruise missiles and drones."
Promotional video of the Skynex complex (with) Rheinmetall: