The American edition of Politico in the article "At the Pentagon, push to send F-16s to Ukraine picks up steam Kyiv has renewed its request for modern fighters in recent days after the U.S. and Germany approved transferring tanks" ("The Pentagon insists on the supply of F-16 fighters to Ukraine. Kiev has renewed its request for modern fighters in recent days after the United States and Germany approved the supply of tanks to it") reports that representatives of the US Department of Defense are actively advocating the supply of Lockheed Martin F-16 fighters to Ukraine.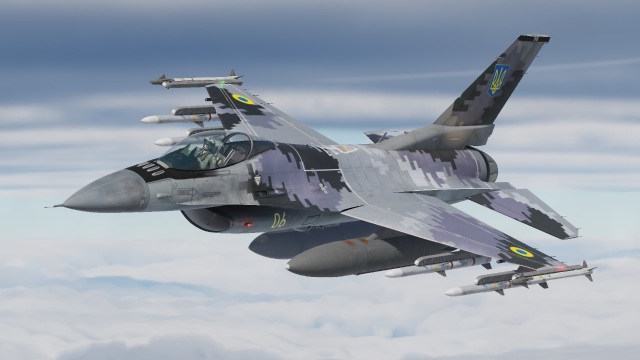 Artistic image of the Lockheed Martin F-16CM Block 50 fighter jet in the paint of the Ukrainian Air Force (c) SWPixivyle / www.digitalcombatsimulator.comAccording to three people familiar with the discussions, a group of U.S. military officials is pushing the Pentagon without much publicity to approve sending F-16 fighter jets to Ukraine to help that country defend itself against Russian missiles and drones.
Ukraine added American-made F-16 fighter jets to its list of desired weapons after the Russian invasion last year. But Washington and Kiev view artillery, armored vehicles and ground-based air defense systems as more pressing needs as Ukraine seeks to protect civilian infrastructure and reduce the territory occupied by Russian troops.
According to a representative of the US Department of Defense and two other participants in the discussion, while Ukraine is preparing to launch a new offensive in the spring to regain territory, the campaign within the US Department of Defense on fighter jets is gaining momentum. These people, like others interviewed for this article, asked not to be named in order not to reveal the internal nature of the discussions.
Partly due to the rapid approval of the delivery of Patriot tanks and air defense systems, which until recently were unacceptable for export to Ukraine, optimism has resumed in Kiev that American aircraft may be next in line.
"I don't think we're against it," a senior U.S. Defense official said about the F-16, speaking on condition of anonymity to discuss this sensitive issue. He stressed that there has not been a final decision yet.
However, Ukraine has yet to declare that fighter jets are its top priority, the representative stressed, noting that the Pentagon is focused on sending Kiev the funds needed for combat operations at the moment.
But soon the fighters may come out on top. In recent days, Kiev has renewed its request for modern fighters, and the chief adviser to the country's defense minister [Yuri Sak] told the media that officials will insist on receiving aircraft from the United States and European countries.
A high-ranking Ukrainian official [meaning Mikhail Podolyak] said on January 28 that Ukraine and its Western allies are conducting "accelerated" negotiations on the possible dispatch of both long-range missiles and combat aircraft.
One of the advisers to the Ukrainian government said that this issue was raised in Washington, but "nothing too serious" has yet been discussed. Another person familiar with the conversations between Washington and Kiev said it could take the US "weeks" to make a decision on the supply of its own aircraft and approve the re-export of F-16s from other countries.
"If we get them, the advantages on the battlefield will be huge... This is not just about the F-16: fourth-generation aircraft, this is what we need," Yuriy Sak, an adviser to the Minister of Defense of [Ukraine] Alexey Reznikov, told Reuters.
A White House spokesman declined to comment on this story, but pointed to the remarks of US Deputy National Security Adviser John Feiner. He said that the United States would "very carefully" discuss fighter jets with Kiev and its allies.
"We are not rejecting or ruling out any specific systems," Feiner said on MSNBC on January 26.
"We have nothing to announce about the F-16 yet," a US Department of Defense spokesman said. "As always, we will continue to consult closely with Ukrainians and our international allies and partners about Ukraine's security assistance needs so that they can protect their country."
Ukraine is requesting modern fighters - the F-16 or F-15 of the US Air Force or their European counterparts - the German Tornado or Swedish Gripen - to replace its fleet of Soviet-era jet aircraft. Dozens of more modern aircraft will become available in the coming years, when countries such as Finland, Germany and the Netherlands switch to American F-35 fighters.
Despite the age of Ukrainian aircraft, Kiev's comprehensive air defense system did not allow Russia to dominate the air after the invasion on February 24.
But now officials are concerned that Ukraine is running out of missiles to protect its skies. Once their arsenal is exhausted, Russian modern fighters will be able to move [into Ukrainian airspace], and Kiev "will not be able to compete," said a US Department of Defense official who participated in the discussions.
Modern fighter jets can be one of the solutions to this problem, according to a group of military representatives at the Pentagon and other institutions. The F-16s carry air-to-air missiles that can shoot down incoming missiles and drones. And unlike Patriot and NASAMS air defense systems, which are currently supplied by the West, fighters can quickly move around the theater of operations to protect various targets.
"If they get [the F-16] Viper and they have an air-to-air missile with active radar guidance, which the F-16 currently has, with electronic warfare capabilities, then it will be an equal game," a US Department of Defense spokesman said.
Even if the US decides not to send F-16s from its Air Force, other Western countries have American-made fighters that they could supply. For example, Dutch Foreign Minister Vopke Hoekstra said last week in the Dutch Parliament that his cabinet would consider the issue of F-16 supplies if Kiev requested them. But the US must approve such a transfer.
Senior Pentagon officials admit that Ukraine needs new aircraft in the long term. But at the moment, some of them argue that Ukraine needs more traditional air defense systems, such as Patriot and NASAMS air defense systems, which are supplied by the United States and other countries, because the delivery of aircraft can take months.
The delivery of the F-16 to Ukraine "does not solve the problem of cruise missiles or drones right now," a senior US Department of Defense official said.
Movement towards personnel trainingOther officials say the need for fighter jets is more pressing.
Ukraine has identified a list of 50 pilots who are already ready to begin training to fly the F-16, according to representatives of the US and Ukrainian defense ministries, as well as three other people familiar with the discussions. According to sources, these experienced pilots speak English and have thousands of combat missions under their belt, and they can be retrained in just three months.
Many of them had already trained with the US military in major exercises before the [Russian] invasion. In 2011 and 2018, Americans and Ukrainians participated in military exercises in the skies over Ukraine. In 2011, the Americans moved their F-16s and trained Ukrainian pilots on their MiG-29 and Su-27 to cover stadiums in preparation for the Euro 2012 European Football Championship.
After Russia illegally annexed Crimea in 2014, the United States and Ukraine conducted a second joint exercise in 2018 aimed at training Ukrainian pilots in tactics to protect their airspace and air supremacy. American pilots used their F-15s to mimic the tactics of Russian fighters.
According to a Ukrainian official and one of the people familiar with the discussion, Ukraine insists that the United States begin training its fighter pilots to fly the F-16 now, before President Joe Biden approves the delivery of the aircraft. But the Pentagon has no interest in the proposal, U.S. officials said. One of the alternatives discussed at lower levels is the beginning of training Ukrainian pilots in the basics of fighter tactics on training aircraft.
Ukraine was also considering signing contracts with private companies in the United States to begin training its flight personnel, according to one of the sources familiar with the matter.
It is likely that the training of flight personnel in the United States will not begin without a decision by the US president on the supply of American fighters. All this time, the Biden administration has been worried that the supply of modern weapons to [Ukraine] could be perceived by Russia as an escalation, prompting Vladimir Putin to use nuclear weapons.
But officials note that the F-16s were mostly built in the 1980s, and the US Air Force is already decommissioning part of their fleet. According to them, sending inconspicuous American F-22 or F-35 fighter jets to Ukraine will be considered an escalation, but sending F-16s will not.
"Let's face it: there will be no nuclear war because of the F-16," said a representative of the US Department of Defense.
One European official agreed, saying that F-16s "cannot be considered the cause of escalation."
"It's just part of a set of conventional weapons," the man said.
However, F-16s are complex systems that also require significant infrastructure and highly qualified specialists to operate and maintain. The training of Ukrainian maintenance specialists will probably take longer than the training of pilots, and the US may have to attract contractors to perform some maintenance work.
Support of legislatorsProviding Ukraine with the F-16 is likely to receive support on Capitol Hill, where both Democrats and Republicans alike reproached the administration for not acting quickly enough or for refusing to supply certain types of weapons, such as long-range missile systems.
The sending of Russian-made MiG fighters to Ukraine from Eastern European countries, which still use them, received the support of both parties, although such an exchange of weapons ultimately did not take place.
Member of the House of Representatives Mike Quigley (Illinois), who is the co-chairman of the Ukrainian Congressional faction, said that he is "not against" providing Kiev with the F-16, and in general stands for providing Ukraine with "everything that works."
"You can't half fight a war. Putin is not leading it by half. You don't need to respond to Putin's armored vehicles with armored vehicles, weapons for weapons, because in the number of troops [Ukraine] already has an extremely disadvantageous position," Quigley said. "Everything that works, everything they need. we need to send them" [Ukrainians].
"My message when I first started talking about it is that what was once considered a vice has now become a habit," he said. - "Everything we have ever proposed was previously seen as an escalation."
But the top Democrat on the House Armed Services Committee, Member of the House of Representatives Adam Smith (from Washington State) questioned the need to send the F-16 into a conflict where fighter jets have not yet played a decisive role.
"I'm not against it," Smith said, "it's just not at the top of anyone's priority list, which is focused on what [weapons] are really needed for combat right now."
He noted that the F-16, like the old MiGs mentioned last year, will be vulnerable to the Russian air defense system and fifth-generation fighters. Instead, Smith stressed the need to supply anti-aircraft missiles for air defense batteries, long-range missiles, tanks and armored vehicles.
"What we really need to focus on is air defense, that's number one," he said. - And the second is artillery.