As the press service of the President of the Russian Federation reported on September 20, 2022, in the Kremlin, President of the Russian Federation Vladimir Putin met with the heads of enterprises of the military-industrial complex. The measures taken in the industry to meet the needs of the Ministry of Defense, the implementation of import substitution programs were discussed. Vladimir Putin also congratulated the gunsmiths on their professional holiday, which is celebrated in Russia on September 19.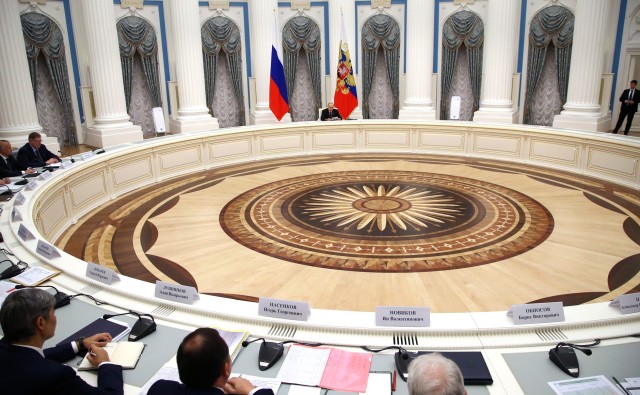 (c) Press Service of the President of the Russian FederationOpening remarks at a meeting with the heads of defense industry enterprises
Vladimir Putin: Good afternoon, dear colleagues!
The Day of the Gunsmith was celebrated in our country yesterday, and I would like to sincerely congratulate you and all employees of the domestic military-industrial complex on your professional holiday, thank you for your conscientious work, for your dedication to a great and very important cause to which you have devoted your whole life, for serving Russia and our people.
Thanks to the talent, energy of designers, engineers, workers, and their responsible attitude to the tasks set, our defense industry makes a huge contribution to strengthening the country's security and to updating and improving the combat capabilities of the army and navy. At the same time, it has occupied and still holds a strong position in the global arms markets. In just six months of this year, despite all the circumstances that everyone is well aware of, our industry has supplied foreign partners with military products worth over six billion dollars. The production of high-tech civilian products in demand both in Russia and abroad is increasing.
Once again, I congratulate all Russian gunsmiths on their professional holiday and wish you good health and new successes.
Dear colleagues!
Today, taking into account the situation, challenges and threats that our country is facing, defense industry enterprises are working in a tense, intensive mode. Labor collectives promptly solve non-standard tasks, rebuild production, improve products, relying on the experience of real combat operations. Your representatives are literally going to the front line themselves - I want to note this, I want to say this and I want to thank them for it. This is not just a responsible attitude, it is to a certain extent heroism. This makes a huge contribution to the improvement of military equipment used during combat operations.
Therefore, during our working meeting today, I propose to focus on extremely specific, most pressing problems: organizational, financial, technological. First of all, of course, we will discuss issues related to the supply of weapons, equipment and ammunition to the troops, primarily to units and units that participate in a special military operation.
I will immediately note that the Russian weapons used during the operation show high efficiency. First of all, this concerns aviation, high-precision long-range missiles, aviation weapons, rocket and artillery, armored weapons and others. They make it possible to destroy military infrastructure, command posts, enemy equipment, hit the locations of nationalist formations, while minimizing losses among personnel.
I would also like to emphasize the fact that our equipment effectively resists Western weapons. As you know, all stocks of NATO arsenals are actually thrown to support the current regime in Kiev. This means that we must and can study the arsenals, what is there, and what is being used against us, qualitatively increase our capabilities and, based on the experience gained, improve - where necessary - our equipment, our weapons. This process is natural, and, of course, you need to take advantage of it. At the same time, it is necessary to do this as quickly and efficiently as possible.
Let me remind you in this regard that this year I have made decisions on additional equipping of troops with weapons and equipment and, accordingly, allocating funds for their purchase and repair. It is necessary to increase the production capacities of a number of defense industry enterprises and, where necessary, modernize them. Much has already been done to achieve this goal.
So that the production and repair of weapons and equipment were continuous, decisions were made: contract and pre-contract procedures were significantly simplified, you know about it, the terms of concluding state contracts with a single contractor and the procedure for pricing such contracts were shortened, as well as the volume of their advance payments increased.
I would also like to note that Promsvyazbank retains the terms of preferential lending of contracts for advanced arms supplies. In addition, amendments have been made to the legislation on labor relations, which allow the heads of enterprises and design bureaus to pay designers, engineers, workers for overtime.
A number of measures have been taken directly related to the optimization of production at enterprises - I will not list all this now, you already know this well. This was done according to your recommendations.
Defense industry organizations need to ensure the delivery of the required weapons and equipment to the troops and weapons of destruction in the shortest possible time.
It is also necessary to solve the problem of timely and complete provision of defense industry enterprises with domestic components, parts, assemblies and materials. The defense industry sector is exactly the area where all import substitution programs must be implemented unconditionally. Somewhere else it is not so important and not so essential, and in fact it is not necessary, we do not need one hundred percent import substitution. And here it is necessary. Therefore, it is necessary to increase production capabilities in the shortest possible time, load equipment as much as possible, optimize technological cycles and, without reducing quality, reduce production time at the same time.
I ask the heads of defense industry enterprises to report today on the measures taken to meet the needs of the Ministry of Defense. And, of course, I am waiting for your specific proposals, as it was in our previous meetings related to the development of the entire industry.