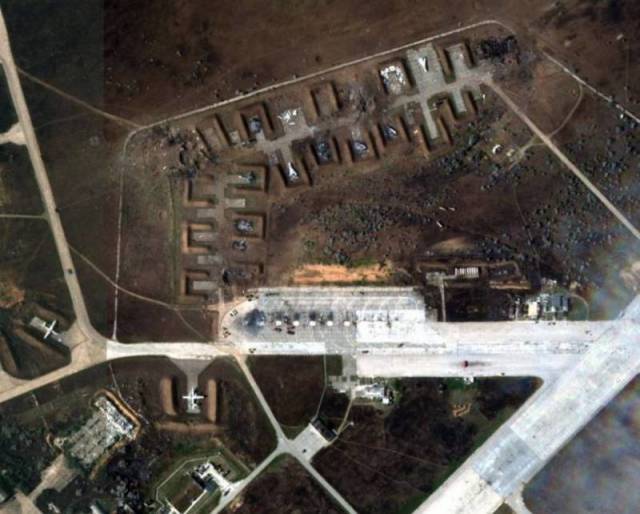 Image source: topwar.ru
In the account of the American company Planet.Labs, which is engaged in satellite sensing of the Earth's surface (often in the interests of the American military department), photographs have appeared that allegedly depict the airfield in Novofedorovka. We are talking about a military facility where explosions occurred a few days ago, filmed, among others, by local residents and tourists. The Ministry of Defense of the Russian Federation, commenting on the incident, on the same day reported that the cause of the explosions was careless handling of aviation ammunition. After a while, the notorious politician Oleg Tsarev, referring to an acquaintance who participated in extinguishing a fire in Novofedorovka (Crimea), said that all aviation equipment at the airfield was intact.
If the satellite images are Planet.Labs really correspond to the airfield near the city of Saki of the Republic of Crimea, then the statements that there were no losses of military equipment sounds, to put it mildly, strange.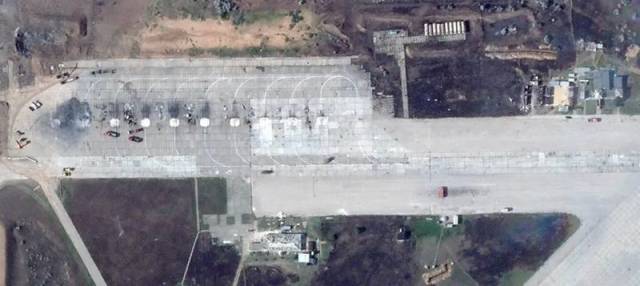 Image source: topwar.ru
In the pictures you can see the territory of the airfield, where several means of combat aviation are damaged or completely destroyed. Traces similar to craters from explosions also attract attention. Moreover, some of these traces are not located at the parking lots of specific aviation facilities, but at some distance from them.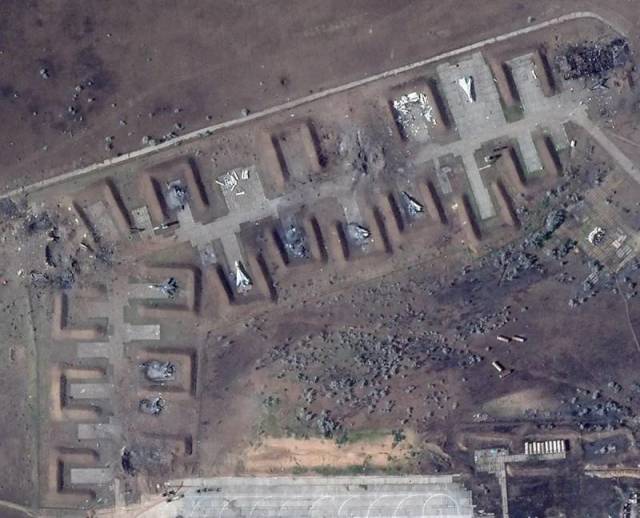 Image source: topwar.ru
Recall that the Ukrainian side denies the fact of shelling the territory of the airfield in Crimea. However, the adviser to the head of Zelensky's office, Mikhail Podolyak, immediately after the emergency in Novofedorovka, said that "the APU will deal with the demilitarization of the Crimea." And in the American press, with reference to an unnamed Ukrainian government official, a material was published the day before, which says that the explosions in Novofedorovka are allegedly the work of Ukrainian special forces.
In any case, the events in Novofedorovka require a thorough investigation. If it was the negligence of the military personnel responsible for the storage and operation of ammunition, then it is necessary to deal with what could have caused such criminal negligence at all. In particular, it requires finding out whether the negligence was negligence, and not actions planned in advance. If the enemy is involved in the explosions at the airfield, then it is necessary to answer the main question: are other military facilities on the territory of the Russian Federation protected from him, which are of crucial importance for achieving the goals of their own set by the president. From this "history" it is necessary to draw the right conclusions so that nothing like this can happen again by definition, including that the enemy loses any opportunity not only to carry out, but also to plan such operations (whether it is his handiwork or not).