Poland continues to develop its self-propelled artillery. Yesterday, September 6, the portal milmag.pl He reported that the Huta Stalowa Wola company brought a new version of the Rak self-propelled mortar to the defense industry exhibition in Kielce (MSPO).
The new model is called the M120G Rak and is built on a light tracked chassis. Earlier, Huta Stalowa Wola had already experimented with installing a mortar module on the tracked chassis of the self-propelled gun "Gvozdika", but in the final version it was presented on the basis of a modified chassis of the BMP "Badger" (Borsuk).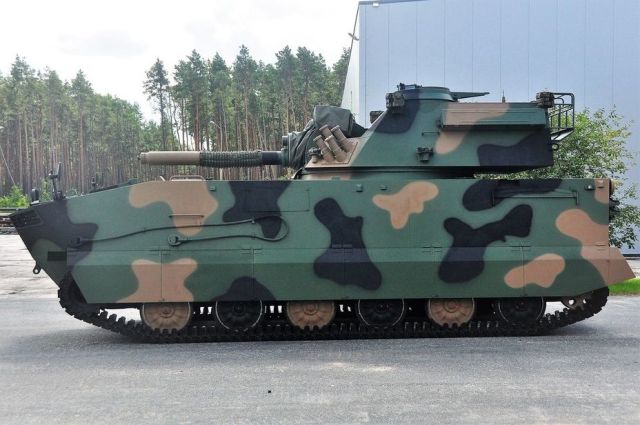 Tracked self-propelled mortar M120G Rak
Image source: milmag.pl
According to the developers, the new vehicle is part of the concept of a modular design of artillery systems. If the Polish armed forces choose this version of the self-propelled mortar, it will improve the possible unification of equipment, since it is planned to create a number of more combat vehicles on the basis of the promising Badger BMP.
In the wheeled version, the Rak self-propelled mortar has a caliber of 120 mm and 46 min ammunition (20 - in the automatic loader, 26-in the additional ammunition). The range of fire with standard mines is 7 km, while Poland is developing adjustable ammunition with a range of 9 km. The crew of the combat vehicle consists of three people. From the marching position to the combat position, the Rak is transferred in just 30 seconds, back in 15 seconds. The rate of fire of the mortar is 6-8 rounds per minute.
The Badger BMP is planned as an amphibious vehicle that will replace the outdated BWP-1 (BMP-1) in the Polish army. The car is planned to be produced in two versions: in the lightweight amphibious version, the BMP will weigh up to 25 tons, in the heavy "assault" version — about 30 tons. High maneuverability of the combat vehicle will be provided by a multi-fuel engine with a capacity of 800 hp.