The General Directorate of Armaments (Direction Générale de l'Armement - DGA) of the Ministry of the Armed Forces of France announced in messages on June 24 and 25, 2021 [...], that on June 1 it issued a contract to the French Nexter group for the repair and serial modernization of the first 50 Leclerc tanks of the French army according to the Leclerc XLR variant (out of 200 planned).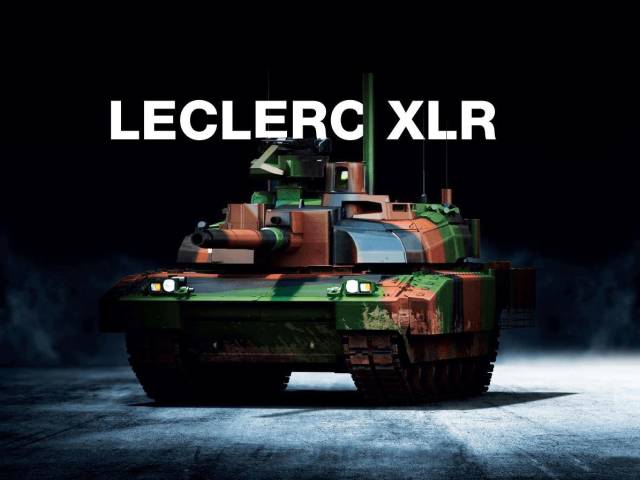 The alleged appearance of the modernized French Leclerc XLR (c) Nexter tank
On June 26, this information was confirmed by the Nexter Group, indicating that the modernization contract is a development of the contract signed by it with the DGA on April 1, Marché de Soutien en Service 2 (MSS2) for 10-year technical support of Leclerc tanks of the French army.
It is reported that 50 tanks contracted for modernization under the Leclerc XLR variant should be transferred to the French army from 2022 to the end of 2024. The modernization contract includes an option to modernize the remaining 150 Leclerc tanks of the French army, if the option is implemented, a total of 122 tanks should be upgraded by the end of 2025, and the entire modernization program should be completed in 2028.
Also, 17 Leclerc DCL armored repair and evacuation vehicles are subject to repair and modernization under the option. It is planned that the modernized tanks will remain in service until the arrival of a promising tank created under the Franco-German MGS program by about 2040.
A contract worth 330 million euros for the development of the Leclerc XLR modernization project was issued to Nexter in March 2015. It is reported that the modernization of the Leclerc XLR project, in addition to carrying out a general overhaul of the tank, primarily includes the installation of equipment for integrating the tank into the SCORPION network integrated system of the French army (including the SICS automated control system and the Thales Contact communication complex). It is also planned to modernize the fire control system, install a laser radiation warning system, a GALIX multispectral smoke jamming system, a BARAGE radio suppression system, a new diagnostic system, a new display system for the commander and gunner, upgrade the navigation system, strengthen ballistic and mine protection, install screen grilles in the stern of the hull and turret and install a remotely controlled FN Herstal T2B combat module with a 7.62 mm machine gun on the turret. It is planned to introduce new shots into the ammunition of the 120-mm gun.
In total, from 1992 to 2007, the French army received 406 serial Leclerc tanks manufactured by the GIAT association (since 2006 - Nexter), as well as 18 Leclerc DCL BREMS made on the same chassis and two prototypes of DNG engineering vehicles transferred to it. For 2020, 222 tanks and 18 BRAM remained in the troops, of which 200 tanks and 17 BRAM are subject to modernization under the Leclerc XLR program.