As reported by the newspaper "Vedomosti" in the material Alexey Nikolsky "In St. Petersburg, former top managers of the defense enterprise "Zvezda"were detained. A criminal case against them may be associated with an interruption of import substitution" , two law enforcement source confirmed to Vedomosti that the investigators are investigating a criminal case against top managers of St. Petersburg PJSC "Star" in article 160 h 4 (embezzlement), which was detained by his former CEOs Paul Fin and Michael Lubin, and a former Vice-Fin Oleg Grigoryev. Vedomosti sent a request to the Ministry of Internal Affairs of St. Petersburg and the Leningrad Region.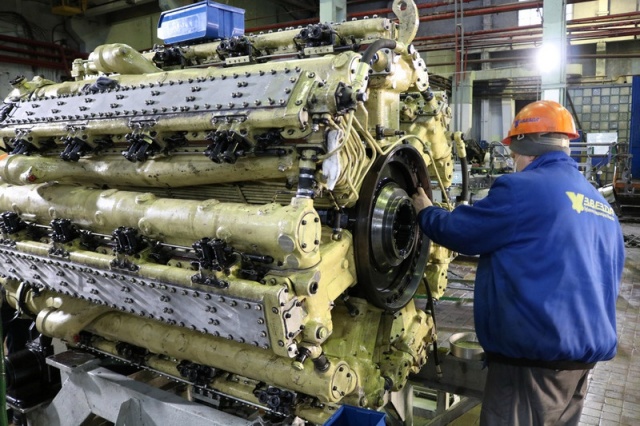 Assembly of the ship's high-speed diesel engine of the M-507 family at PJSC Zvezda in St. Petersburg (c) PJSC Zvezda"
As previously reported by the agency "Interfax-North-West", law enforcement agencies believe that the detainees embezzled the money of PJSC "Zvezda" in the amount of more than 142.3 million rubles. According to the investigation, the detainees transferred the plant's money to the settlement accounts of organizations that do not carry out real financial and economic activities, under fictitious contracts under the pretext of supplying goods for the needs of Zvezda .
According to the source, more than ten searches were conducted at the places of residence and work of the detainees, during which they seized Mercedes GLE400 and Tesla cars, more than 2 million rubles in cash, computer equipment, phones, flash drives, title documents for real estate, documents and seals of various organizations.
PJSC Zvezda is a Russian developer and manufacturer of high-speed diesel engines with a capacity of 500 to 7400 kW for shipbuilding, railway transport and small power generation, as well as heavy marine gearboxes with a capacity of up to 20,000 kW.
According to the manager of the defense industry enterprise, the criminal case was initiated due to the problems that Zvezda experienced during the implementation of import substitution programs - because of this, the company's activities were under increased control. Zvezda was supposed to replace the gearboxes for the power plants of the 22350 frigates of Ukrainian production and imported diesels for boats and small ships of the Navy, but work on these projects was greatly delayed.