One of the satellites of the Chinese gamma-ray monitor of the whole sky GECAM registered its first gamma-ray burst. It is assumed that it may be associated with a magnetar in our galaxy or be the result of the merger of two compact objects. A circular about the discovery of the burst is published on the website of the Gamma-ray Burst Coordinate Network.
GECAM (Gravitational Wave High-energy Electromagnetic Counterpart All-sky Monitor) was developed by scientists from the Institute of High-Energy Physics of the Chinese Academy of Sciences and launched into space using a carrier rocket "Changzheng-11" from the Xichang cosmodrome on December 9 last year. The objective of the project is to continuously monitor the entire sky to record short gamma-ray bursts resulting from mergers of compact objects, which are also sources of gravitational bursts, ultra-long gamma-ray bursts, X-ray bursts from various astrophysical sources, as well as ground-based gamma-ray bursts.
The position of the GECAM vehicles in Earth orbit (left) and the device of the vehicles (right).
Image source: Shaolin Xiong / IHEP, CAS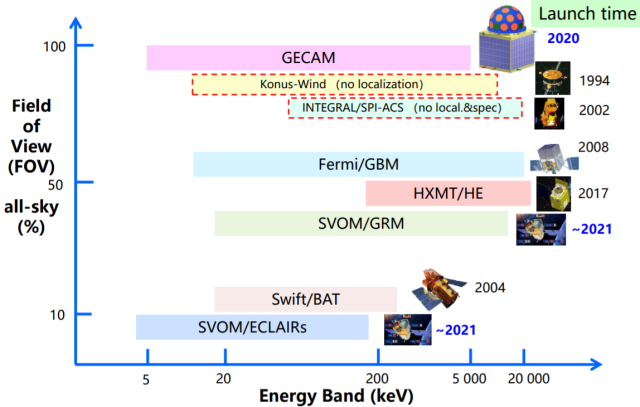 The position of the GECAM in the diagram "field of view - range of quantum energies".
Image source: Shaolin Xiong / IHEP, CAS
GECAM consists of two vehicles, each weighing 160 kilograms, which are in orbit at an altitude of about 600 kilometers. Each device is equipped with a dome-shaped system containing 25 gamma-ray detectors and eight charged particle detectors. The operating range of GECAM for particle energies is from 6 kiloelectronvolts to 5 megaelectronvolts, and within a few minutes after detecting a burst of radiation, the devices will be able to send an alert about it to other ground-based and space-based telescopes.
In the early morning of January 20, 2021, the GECAM-B device announced the first detection of a gamma-ray burst of GRB 210119A. It lasted about 50 milliseconds and was classified as a short gamma-ray burst, which was also observed by the Fermi, Swift, and Insight-HXMT space telescopes. The source of the burst could be the merger of two neutron stars or black holes, or it could be associated with the galactic magnetar Swift J1851.2-6148. Thus, GECAM became part of the global gamma-ray burst observation system, which plays an important role in the era of multi-wave astronomy.
Observations of the sources of gravitational bursts in the electromagnetic range are extremely important for understanding the processes that control such events. So far, scientists have only one reliable case of observations — in mid-2017 [...], a merger of neutron stars located at a distance of about 130 million light-years from the Sun was recorded in the elliptical galaxy NGC 4993 in the constellation Hydra.
Alexander Voityuk