Computers built on the basis of the classical von Neumann architecture process data using a Central processor, and the source data and calculation results are stored in other places - in RAM, on a hard or solid-state disk. This architecture has been used for several decades, but it can't be called optimal or efficient due to the presence of so-called bottlenecks.
The most famous bottleneck that limits the performance of modern computers is the interface between the processor and memory.this bus has limited bandwidth and at times of high computational load, processors are forced to "wind up idle cycles", losing time and waiting for the bus to be released. This disadvantage is completely devoid of the most powerful computer of natural origin - the brain, consisting of neurons that can simultaneously store and process information.
In recent years, scientists and engineers have made quite significant progress in imitating the functioning of the brain, using the architecture of "computing in memory" implemented on the basis of memristor cells . These cells, like neurons, are also able to store and process information, which frees such processors from the constant need to move data, which consumes a fairly large amount of time and energy.
And not so long ago, scientists from the Swiss Federal Polytechnic University of Lausanne (Swiss Ecole Polytechnique Federale de Lausanne, EPFL) developed and manufactured a prototype of a new processor, in which the architecture of "computing in memory" is implemented using a completely new approach. And the basis of all this was a conditionally two-dimensional material-molybdenum disulfide (molibdenite, MoS2), which has long appeared as one of the most basic alternative materials for electronics.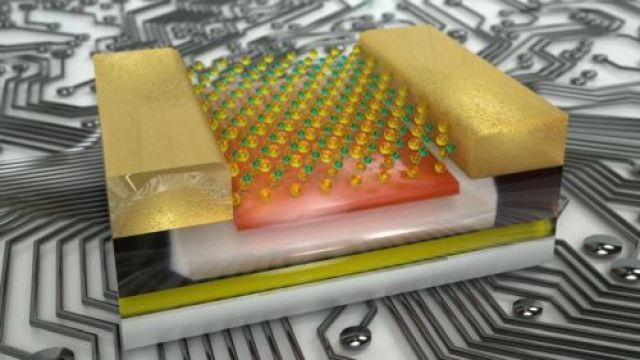 The thickness of a single layer of molybdenum is only three atoms. This material is an excellent semiconductor and has great potential for miniaturization of electronic devices and components in which it is used.
The basis of the new processor is not memristors, but so-called [...] floating - gate field-effect transistors (FGFET). Such transistors, which can store an electric charge for a long time, are already widely used in non-volatile flash memory, which is available in any computer, mobile phone, photo and video camera. Elements made of molybdenum disulfide are sensitive to electric charges stored in FGFET transistors, and due to this, they can simultaneously perform the function of storing and logical processing of information.
The first experimental chip with such a memory cell-logic we held in our hands ten years ago-says Andras KIS (Andras Kis), a leading researcher-Now we are already able to produce a circuit containing up to 80 such cells in one pass, which have a set of strictly defined parameters. This opens the way to creating smaller computing devices that have high computing power and demonstrate the highest energy efficiency.