On March 27, 2023, the Finnish arms company Sako Oy (part of the Beretta Holding Group) announced that it had signed a framework agreement with the armed forces of Finland and Sweden on the joint production of new-generation small arms at the Sako plant in Riihimaki. This agreement includes automatic rifles and automatic carbines for NATO cartridges of 5.56 x 45 mm and 7.62 x 51 mm and sniper rifles for cartridges of 7.62 x 51 mm and .338 Lapua Magnum (8.6 mm).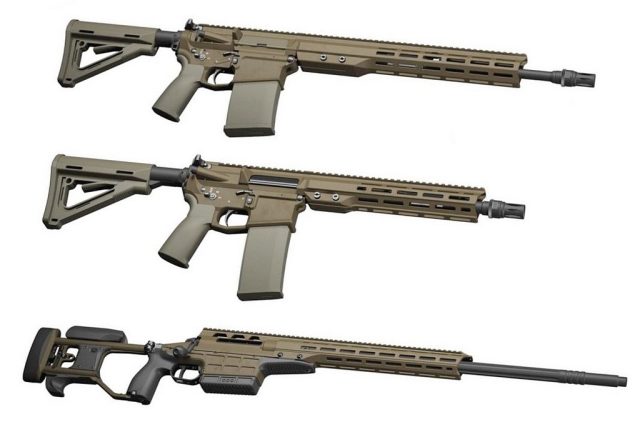 A new family of small arms developed by the Finnish company Sako, intended for joint purchase by the armed forces of Sweden and Finland. From top to bottom: automatic rifle on the AR-15 platform chambered for NATO 5.56 x 45 mm, Sako automatic carbine on the AR-10 platform chambered for NATO 7.62 x 51 mm, Sako TRG M10 sniper rifle chambered.338 Lapua Magnum (8.6 mm) (with) SakoThe framework agreement will allow Finland and Sweden to purchase new small arms with minimal costs.
Initially, the agreement will be valid for 10 years, followed by three seven-year option periods until December 31, 2053.
In fact, so far, within the framework of these agreements, only Sweden has concluded contracts for the purchase of small arms in serial quantities in the amount of about 875 million Swedish kronor (78 million euros). The Swedish Defense Procurement Agency FMV has ordered new automatic rifles developed by Sako on the AR-15 platform with a 5.56 x 45 mm NATO cartridge, new Sako automatic carbines on the AR-10 platform with a 7.62 x 51 mm NATO cartridge, and sniper rifles with a 7.62 × 51 mm cartridge and Sako TRG M10 sniper rifles with a cartridge.338 Lapua Magnum (8.6 mm).
According to the Swedish defense procurement agency FMV, although the types of weapons have already been selected, however, its testing and evaluation will continue. "Starting from 2023, extensive tests of each type of weapon will be conducted, during which the quality, as well as ease of handling and ergonomics will be checked in various conditions and in several stages," at the same time, the procurement phase will begin in 2023, and the military testing phase will begin in late 2023-early 2024. First of all, in 2024, the Swedish military will receive the first sniper rifles with a longitudinally sliding Sako TRG M10 bolt under the cartridge.338LM, which should replace the PSG90 sniper rifles in the Swedish armed forces (Swedish Accuracy International Arctic Warfare rifle index).
New automatic rifles of 5.56 mm caliber will be launched by Sweden in 2025, and 7.62 mm caliber in 2026. So far, Sako has published only preliminary images of these weapons samples. In the Swedish Armed Forces, these samples should replace the Ak 5 automatic rifles (licensed version of the FN FNC rifle) of 5.56 mm caliber and Ak 4 (licensed version of the German G3) of 7.62 mm caliber.
FMV informs that the agreement with Sako also applies to the Swedish Police, Customs, SÄPO (Swedish Security Service) and Coast Guard with various options and accessories that can be selected according to the agreement.
Within the framework of this agreement, the Finnish Armed Forces ordered from Sako only a small batch of automatic rifles worth 0.7 million euros for their testing. The Director of the Logistics Command of the Finnish Armed Forces, Major General Jari Mikkonen, said that "the Defensive Forces are preparing to phase out existing [small arms] weapons systems, which will ensure a controlled and cost-effective phase-out of the current system."
It should be noted that the question of plans to replace in the Finnish armed forces currently used as the main small arms (there are more than 300 thousand units) modified Kalashnikov assault rifles Valmet Rk.62 for the Soviet cartridge 7.62 × 39 mm remains unclear. Earlier in the 2010s, plans to modernize Rk were repeatedly announced.62 under the Rk.62M program and keeping it in service until 2035. However, in 2021, Sweden and Finland announced joint plans to purchase new-generation automatic small arms, which now resulted in an agreement with Sako. However, specific Finnish plans for the purchase of new automatic rifles and carbines have not been announced, and their purchase under the agreement with Sako was made only for testing purposes.
As for sniper rifles, earlier in October 2022, the Finnish armed forces had already issued Sako a contract for the supply of new M23 sniper rifles chambered in 7.62 × 51 mm, and in February 2023 announced the upcoming purchase of Sako TRG M10 sniper rifles chambered in.338 Lapua Magnum (8.6 mm).