The American web resource "The Hill" published Ellen Mitchell's characteristic material [...] "Why the US is becoming more brazen with its Ukraine support" ("Why the US is becoming more brazen in its support for Ukraine"), which states that the administration of US President Joe Biden supplies Ukraine with weapons that can cause serious damage Russian forces, and, unlike the beginning of the war, US officials no longer seem to be concerned about Moscow's reaction.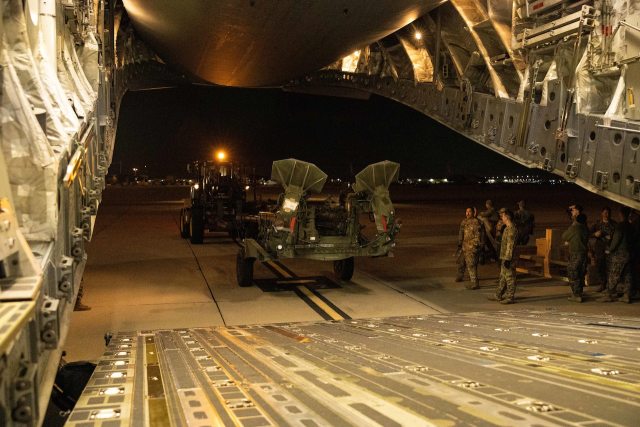 Loading of a 155 mm/39 towed M777 howitzer from the presence of the US Marine Corps into a Boeing C-17A Globemaster III military transport aircraft of the US Air Force at March Air Base (California) for delivery to Ukraine, 04/22/2022 (c) Austin Fraley / US Marine CorpsIn the past few months, Washington has reported in detail on tranches of new drones, more powerful missiles and deadly missile systems worth billions of dollars transferred to the former Soviet Republic of Ukraine.
Such explicit support is very different from the first days of the war, when the US government seemed hesitant to list what exactly was being supplied to Ukraine, so as not to provoke Moscow's anger.
But everything changed thanks to the Kremlin bogged down in the war, which could not fulfill its threats.
"Over time, the US administration realized that it could provide Ukrainians with more in volume and more effective, long-range and heavy weapons, and the Russians did not react in any way," former US ambassador to Ukraine William Taylor told The Hill.
"The Russians seemed to be bluffing and blustering, but no one provoked them. And although the US administration was worried from the very beginning [about this] - and to some extent is still concerned - but the fear of provoking the Russians has decreased," added Taylor, who now works at the American Institute of Peace.
When Russia launched its invasion of Ukraine on February 24, President Vladimir Putin made it clear that any Western country that supplies Ukraine with certain weapons, including aircraft and missile defense systems, should be considered as entering into conflict.
Although the United States quickly came to Ukraine's aid, pouring more than $10 billion worth of weapons into the country over the past six months, Washington seems to have acted cautiously in the early days of the war, sometimes refusing to detail the supply of specific systems and artillery sent to support Kiev.
"Operational security is important for Ukrainians right now," then-Pentagon press secretary John Kirby told reporters in March. - "They are fighting for their country, and the Pentagon is not going to publicly disclose the tools with which they do it."
In particular, the US administration resisted Kiev's calls to supply the country with fighter jets - rejecting in early March a plan that provided for the transfer of MiG-29 fighters from Poland to Ukraine - due to fears that this would lead to an escalation of tensions with Russia.
The warning also extended to public rhetoric. It is reported that in April, US President Biden recommended to US Secretary of Defense Lloyd Austin and Secretary of State Anthony Blinken to soften their speeches, after the head of the Pentagon said that the US wanted Russia to be so weakened that it could not carry out another attack - a comment that Blinken then publicly joined.
"At first we were a little more cautious... not knowing what would happen if Putin searched and attacked supply lines and convoys, we were not sure if he would escalate, and we were also not sure if Ukraine could use what we have or hold out against Russia for a long time," he said. Military analyst at the Brookings Institution think tank in Washington, Michael O'Hanlon.
In addition, the US military decided not to arouse Russia by postponing the tests of the Minuteman III intercontinental ballistic missile in March and then again in April to avoid "misinterpretation."
Also in March, representatives of the US Department of Defense kept the successful test of a hypersonic missile secret for two weeks.
Let's compare this with August, when representatives of the US Department of Defense openly stated that the United States would send ScanEagle reconnaissance unmanned aerial vehicles, MaxxPro MRAP armored vehicles and TOW anti-tank missile systems to Ukraine for the first time, as well as various new ammunition and equipment.
This happened after the administration also announced that it had sent AGM-88 HARM anti-radar missiles to Ukraine.
And since June, the United States has been steadily increasing supplies of HIMARS missile systems to Ukraine, and American servicemen are widely involved in training their use by the Ukrainian military.
Looking ahead, numerous reports indicated that the United States plans to send Excalibur precision artillery ammunition in the near future - a weapon that can have a range of up to 70 km and will help Ukrainians hit Russian protected positions and command posts.
Part of the shift in information can be explained by the fact that Kiev defied international expectations and did not fall quickly when Russia launched an invasion, according to former US State Department official Nathan Sales, who recently served as Undersecretary of State for Civil Security, Democracy and Human Rights.
"I think the administration's messages about the support it's providing are changing because the nature of the war is changing," said Sales, who now works for the intelligence and security consulting firm Soufan Group.
At the beginning of the invasion, Washington predicted that Kiev would fall within a few days, followed by a prolonged guerrilla campaign and an insurgency.
Such a conflict requires small, light, portable weapons capable of hitting helicopters and tanks, as well as weapons such as Stinger and Javelin missiles, which the US government quickly provided.
Instead, the battle has turned into a conventional conflict, when a large mass of combined arms forces on one side fights with a large mass of forces on the other.
"To participate in such a campaign, you need a much wider range of weapons - you need artillery, you need drones, you need various other types of heavy weapons, such as anti-ship missiles. ... What is changing is not so much the willingness of the administration to talk about what it gives, but the nature of the weapons it actually provides," Sales said.
The other part of the equation: recent intelligence data indicating that Russia is feeling the impact of sanctions imposed by the West and the depletion of [Russia's] armed forces as the war continues.
Last month, Reuters reported that major Russian airlines such as Aeroflot had suspended flights of their planes so that they could be disassembled for spare parts, removing parts from some planes so that others could fly.
Faced with losses on the battlefield, Putin last month ordered an increase in the full-time number of Russian military personnel by more than 130,000, abolishing the upper age limit for military service and encouraging military prisoners to join the ranks.
U.S. officials believe that these efforts are "unlikely to succeed."
In general, intelligence paints a picture of a country struggling to preserve its own institutions, and not thinking about taking revenge on Western countries for helping Ukraine.
"I think the instincts of people in ministries and agencies, particularly in the Ministry of Defense and in the intelligence community, I think their instincts should be aimed at moving forward more actively and more aggressive," said one former senior government official.
"I think we have much more opportunities to take measures that will help Ukraine, without unjustified concerns about how Putin will react," he added.