Foreigners were interested in the Azart communication systems produced by the Russian manufacturer, including the export version of the R-187-P1E portable radio station and the R-187BE portable radio station.
According to the press service of the NGO "Angstrom", which developed the radio stations, among those who wanted to get acquainted with the characteristics of various types of" Excitement " and the conditions for their purchase were both our CSTO allies from Armenia and Belarus, as well as representatives of the military departments of countries in Africa, Asia and Latin America: Myanmar, Sudan, Uganda, Iran, Cuba, Mali, Pakistan, Burkina Faso.
The talks with the delegations of Myanmar, Armenia and Cuba were particularly constructive. The delegation of Myanmar was the most representative in terms of the composition and level of participants in the negotiations. The Cuban delegation was headed by military attache Monica Milian Gomez, who has experience in modernizing and organizing communication systems.
The SDR platform used in Azart radio stations provides seamless end-to-end compatibility with radio stations of previous generations working with different protocols and frequency ranges. The mode of pseudo-random adjustment of the operating frequency at a speed of up to 20 thousand jumps per second eliminates the possibility of technical suppression of communication by remote means of enemy electronic warfare or accurate direction finding of the signal.
The line of radio stations "Azart" is exclusively a Russian development. The central processor, software, circuitry, topology of printed circuit boards and the design of the radio station are fully developed on the territory of Russia by domestic scientists and engineers. Azart radio stations have been supplied to the Russian army for more than 10 years and have proven themselves perfectly.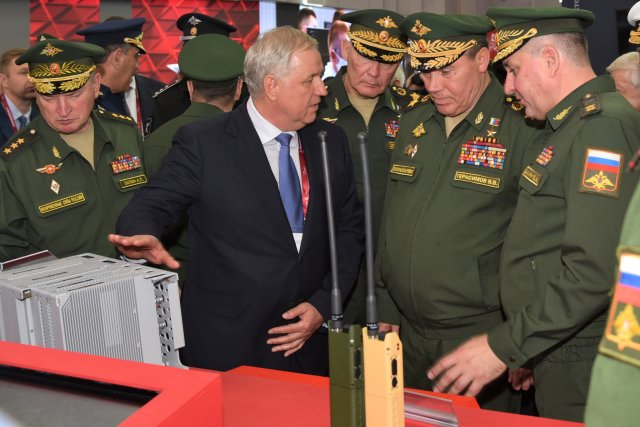 Vadim Malyukov, CEO of NPO Angstrom, told Valery Gerasimov, Chief of the General Staff of the Armed Forces of the Russian Federation, who visited the NPO Angstrom stand, how the company is working on improving the software and hardware of radio stations at the request of the main customer - the Ministry of Defense of the Russian Federation.
Sergey Ptichkin