Competition in the space launch market is getting tougher every year, which pushes developers to various unusual solutions. So, a small private firm SpinLaunch can test its revolutionary method of launching satellites using a centrifuge.
According to the publication SpaceNews, the first suborbital test of the system can be carried out later this year. This was announced last month by Scott McLaughlin, acting executive director of the spaceport "America".
Everyone understands that competition in the space launch market is tough. New rules are constantly being introduced, new technologies are emerging. The fuel used earlier is already considered not environmentally friendly and inefficient. Launch methods are also getting old, so we have to develop new models that can put important vehicles into orbit with minimal costs.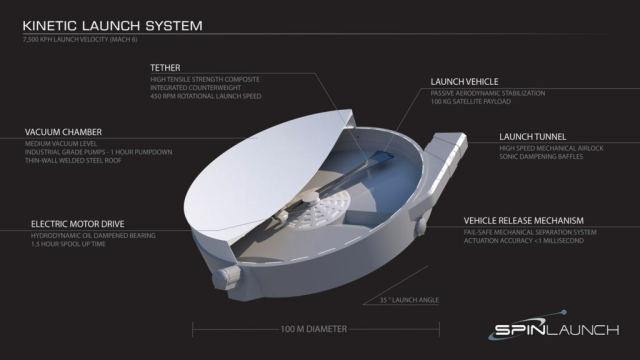 Now the company is building a large centrifuge that will allow the device to accelerate to about hypersonic speed (about Mach 5) before it is "catapulted". It is assumed that the length of the launch vehicle will be approximately comparable to the length of a passenger car. Its capabilities should be enough to put small satellites into orbit.
As for the project budget, the company intends to spend approximately $ 46 million over the next 10 years to achieve its goals. This money will be spent, among other things, on expanding the infrastructure of the cosmodrome.