The European space Agency has officially approved the design of the new ARIEL space telescope and allowed the process of its creation to begin. The telescope is expected to launch in 2029 and conduct the first large-scale study of the atmospheres of thousands of exoplanets of various types, according to the Agency's website.
ARIEL (Atmospheric Remote-sensing Infrared Exoplanet Large-survey) became the fourth exoplanet survey spacecraft toThe European space Agency selected in 2018 as part of the Cosmic Vision program . The telescope should conduct survey studies of the atmospheres of about a thousand exoplanets in the optical and infrared ranges to determine their chemical composition, structure, climate conditions, albedo, temperature distribution depending on altitude and the presence of clouds. It is assumed that this will help to understand the mechanisms of formation and evolution of exoplanets, from rocky super-earths to gas giants orbiting stars of various spectral classes.
The launch mass of the telescope is approximately 1300 kilograms, and it consists of two thermally isolated parts: the service module (SVM) and the payload module (PLM). The SVM module will contain a fuel tank, solar panels, hydrazine-powered engines, and a high-gain antenna.
The PLM module will house a Cassegrain telescope, AS well as an airs infrared spectrometer operating in the 1.95–7.8 micrometer wavelength range, and a precision guidance system including a three-channel photometer and a low-resolution near-infrared spectrometer. The main mirror of the telescope will have the shape of an ellipse, with dimensions of approximately 1.1 by 0.7 meters, and is made of aluminum. Due to the passive cooling system, the operating temperature of the telescope elements will be maintained at about 55 Kelvins.
On November 12, 2020, the European space Agency officially approved the developed telescope project at a meeting of the scientific program Committee, and ARIEL entered the creation stage. In the coming months, applications will be made for the supply of telescope elements, and in the summer of next year, the main contractor will be selected to assemble it.
The telescope is due to go into space in 2029 with the help of an Ariane 6 launch vehicle from the Kourou cosmodrome, and the Comet Interceptor can fly with it. ARIEL will operate in a halo orbit around the second Lagrange point in the Sun-Earth system, with an expected lifetime of at least 4 years.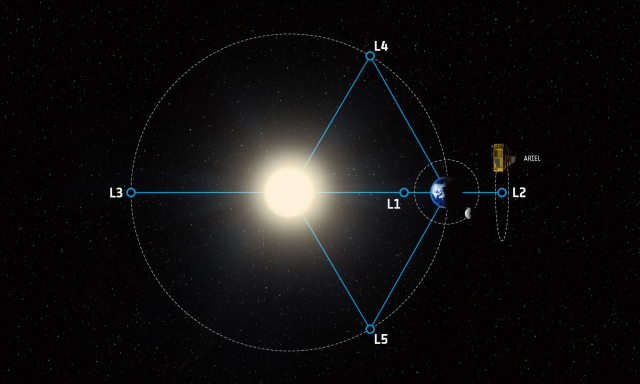 Image source: ESA / STFC RAL Space / UCL / Europlanet-Science Office
How European telescopes explore exoplanets can be found in our blog " Fly for details» .
Alexander Voityuk